Giving Presence.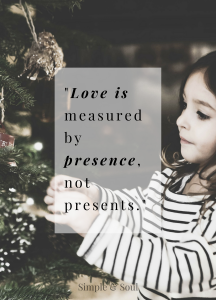 One of the highlights of Christmas for me is getting together with family & friends & eating Christmas dinner together at 5pm. Sitting round the beautifully shiny table decorated with holly & candles talking, laughing & sharing stories & time together.
Eating at 5pm  became a simple tradition that my Grandad and then my Dad continued as they always went to visit aunties & uncles & cousins in the morning bringing gifts & giving each person the gift of their time.
I carried on that tradition with my kids too as it nurtures fond memories and links me to my past.
Pausing to ponder what Christmas means to me I find it enlightening that I have so many vivid memories of my grandad , yet I can't remember one Christmas present that he ever gave to me.
I was never short of presents but what I remember instead is his presence. That was indeed the greatest gift he could have given me, and he shared that gift abundantly.
He gave me the gift of TIME.
When I look back Christmas is about people not presents.
If you celebrate the holidays by exchanging gifts and find yourself stressing out about finding just the right present, perhaps my story will be enlightening or thought provoking.
These are uncertain times. We have lived through lockdowns & furloughs. We have lost loved ones & are having to re adjust & adapt our way of living all the time as the pandemic changed our lives.
Can you think of someone who has given you the gift of presence, either when you were a child or as an adult? How did that make you feel? 
How could you pay that gift forward and give the gift of presence this holiday season?