What Do You Do When Your Child Won't Say Sorry?
Get it on iTunes
Get in on Android
Show notes:
This week's episode of the Sue Atkins Parenting Show is sponsored by The Worrinots
---
In this episode we discuss:
What Do You Do When Your Child Won't Say Sorry?
Why A Half Hearted 'Sorry' Doesn't Teach Your Children Anything
7 Quick Stress Busters for Kids
Role Models for Daughters
Plus… 
Sue on the Radio … Mothers and Daughters
---
Worry-Not says The Worrinots
The Worrinots is a ground breaking, award winning app which allows children to share their worries and fears in a fun, safe and controlled environment.
The primary aim of The Worrinots is to provide children with a platform that they can use to communicate their worries, fears and anxieties. The Worrinots application and characters have been developed with the help of some of the UK's leading child psychologists to encourage children to share their concerns and deal with them appropriately.
The Worrinots won the UK App Award 2017 and is accredited by Orcha, the organisation for the review of care and health applications
The app features engaging characters, Rip, Stomp, Shakey and Chomp – who through fun and encouragement, enable children to share their worries and concerns. The Worrinots exist to urge children to speak out and manage their emotions and feelings whilst being exposed in a fun way to coping mechanisms.
The four fun characters, each with their own individual personalities and guidance styles, 'respond' to the children, with instructions of next steps or follow up whilst whilst 'ripping up', 'chewing' and 'stomping on their worries!'.
Meet The Worrinots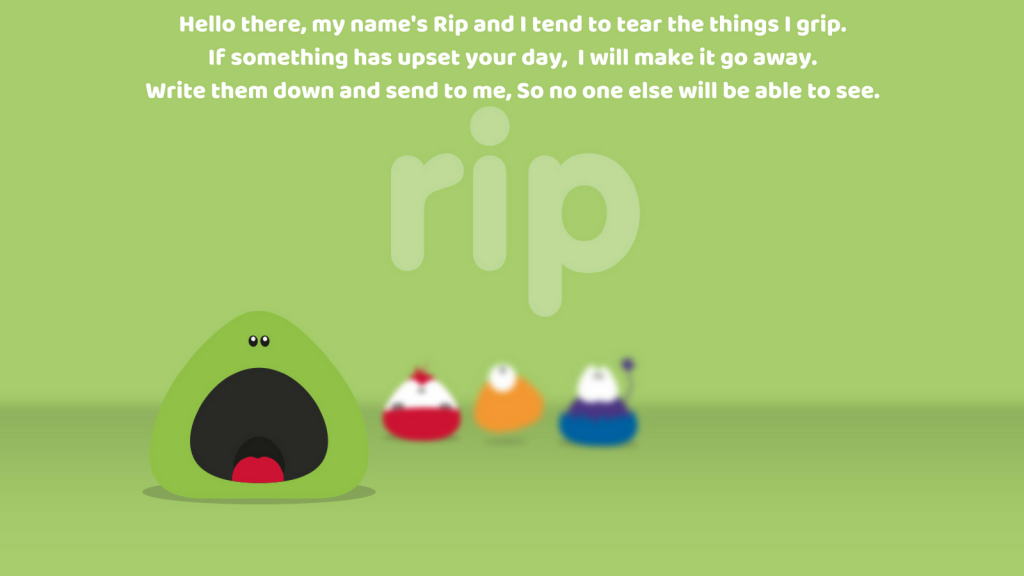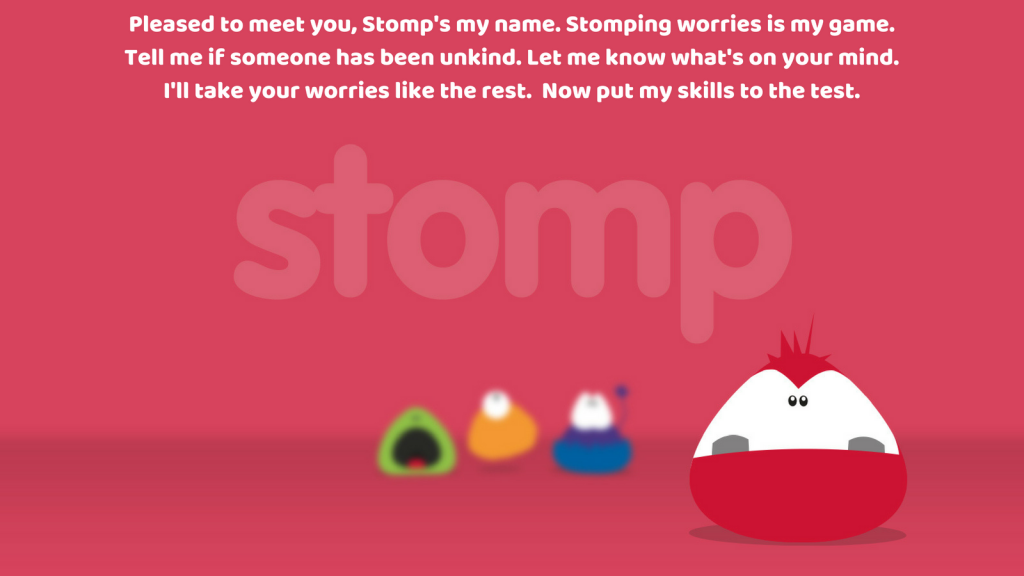 These character conversations are managed by a unique dual platform whereby the Worrinots App is downloaded in two parts – one which is managed by the parent / guardian and the other which is to be put in kids' hands as a fun app.
Co-creator Tracy Gladman, has spent 20 years in education and has a real passion for working with and in the interests of, child wellbeing. She has left her teaching career to manage the Worrinots full time. The Worrinots team have worked closely with child psychologists to develop the app ensuring complete safety, security and effectiveness.
The app has been cleverly constructed to offer both a safe and fun environment for kids and complete security for parents and carers meeting a very real need of ensuring the happiness and the wellbeing of children.
Within the platform are 'worri-tips' which provide expert advice about sharing problems and hints and tips for managing concerns however big or small. These age appropriate tips can be 'switched on or off' allowing for relevant content depending on the child's needs. The typical age of active users is children 4 – 12 years and their families and carers, however the app has been designed to flex and suit children of a slightly older age, to cater for those with learning difficulties or even Autism Spectrum Disorder.
Article by Sue: What Children Worry About According to Their Age & What to Do to Help
Connect with The Worrinots
---
Further items to support the issues raised in this week's show: 
Quick Win Video: Activities to build self-esteem in kids – Tip 3 Siblings WITHOUT the rivalry
Article: Siblings Without The Rivalry!
Article: Siblings without the rivalry – my quick tips
Product: 'THE CAN DO KID' Journal for Super Heroes
Aimed at children from 7-13 The 'Can Do Kid Journal' is all about helping children feel more confident, more assertive and more relaxed in all areas of their lives knowing that they have some tried and tested strategies, simple practical techniques, and a highly effective set of tools, empowering them to make some small changes quickly & easily that will make a COMPLETE difference to their lives.
The 'Can Do Kid' Journal will empower a generation of children to become creative, innovative, independent, resourceful, resilient & confident in their own abilities to try new things, and be resourceful enough to tackle anything and bounce back after setbacks.
It will build the positive mindset, motivation & long term self-confidence & self-worth that children need to succeed as they learn to develop a 'Can Do Kid' attitude to Life.
---
CAN DO KIDS 5 Day Challenge
To help combat boredom during the Summer Holidays, here is the CAN DO KIDS 5 Day Challenge
Contained in the FREE Downloadable File are 15 Activities that your child can do
And also remember there is a prize! 
Upload images of your 'Can Do Kids' completing the 5 of the activities to my Family Fun Facebook page and you could win
Competition closes on Sunday 26th August 2018
If you would prefer not to post your pictures on Social Media, please email them to: [email protected]
Click here to download your FREE Resource Pack 
Don't Stew – Ask Sue Parenting Q & A
Q. Dear Sue, when my kids fight I always make them say 'Sorry' to each other but they then just carry on as normal. How can I get my seven-year-old to apologise and mean it? When we tell her to apologise, she won't; then she often has a huge tantrum. When I ask her about it, she says she doesn't like saying sorry and would rather hug me instead. Should I focus less on the "sorry"? Rosie Andover from Dulwich
A.
Why say sorry?
Nobody is perfect
We all have bad days when things go wrong and we feel like the world is out to get us
We all do stupid things without thinking at times
We all make mistakes
We all have accidents
When you should say sorry
Saying sorry can help put things right when:
you have hurt someone or their feelings
say sorry when you have hurt someone's feelings
you have lost or broken something belonging to someone else
you haven't done something you were supposed to do
you did something you were not supposed to do
you told a lie
you let someone else take the blame
you passed on cruel gossip about someone
you chose to break a rule at home or school
you let anger be the boss of you
your actions have put someone into danger
you have got someone into trouble.
These are just a few examples of when you know you've done wrong, and saying sorry is the first step to putting things right again.
We all get mad at ourselves sometimes and take it out on our family and friends.
It's important to find out what's behind your daughter's behaviour and figure out what she can do to make it up to whomever she has hurt.
It can be embarrassing to say sorry.
No-one likes to think that they are in the wrong.
Saying sorry can be hard
Your daughter may feel:
feel really nervous about it
feel bad about herself
feel mad with herself
feel that saying sorry won't make any difference as you've said or done something to hurt someone or their feelings
feel that the other person won't want to forgive you or accept your apology
forgive others when they say they are sorry
feel like saying sorry isn't really important
feel that you don't want the other person to feel that he or she has any power over you by giving them the choice to accept or reject your apology
feel like the other person should say sorry to you. Maybe you could start by saying "I feel sorry about what happened, what was said or what was done. Maybe we could talk about it and sort things out."
Feelings
Saying sorry may not fix everything right away. It may take some time before everything is ok again.
Maybe you could do something nice for that person – like making mum a cup of tea, tidying up without being asked or helping your brother or sister do something.
Sometimes the other person may never want to forgive you. That's their business.
If you have said sorry and you are showing by your behaviour that you are trying to make things better, then that is all you can do.
Here's my article:
Why saying 'Sorry' doesn't always teach your children anything
Q. 'Dear Sue, my daughter Georgia gets easily stressed. Any quick tips to help her?' Clarissa Hughes from South Mimms
A.
Get physical – walk, run, star jumps, play, ride a bike, kick a ball.
Talk about it – let things out – don't bottle stuff up
Watch something funny to release endorphins and 'feel good' vibes
Play with a pet, stroke a cat, play with the dog, gerbil or rabbit
Listen to music
Draw or colour-in
Meditate – mindfulness apps or do yoga
Make your own personal list with Georgia so she has some things to fall back on.
Free ebook, The Positive Parent Daily Workout
Simply enter your details below to get your very own copy of "The Positive Parent Daily Workout" and learn tips and tricks to use every day with your own children.